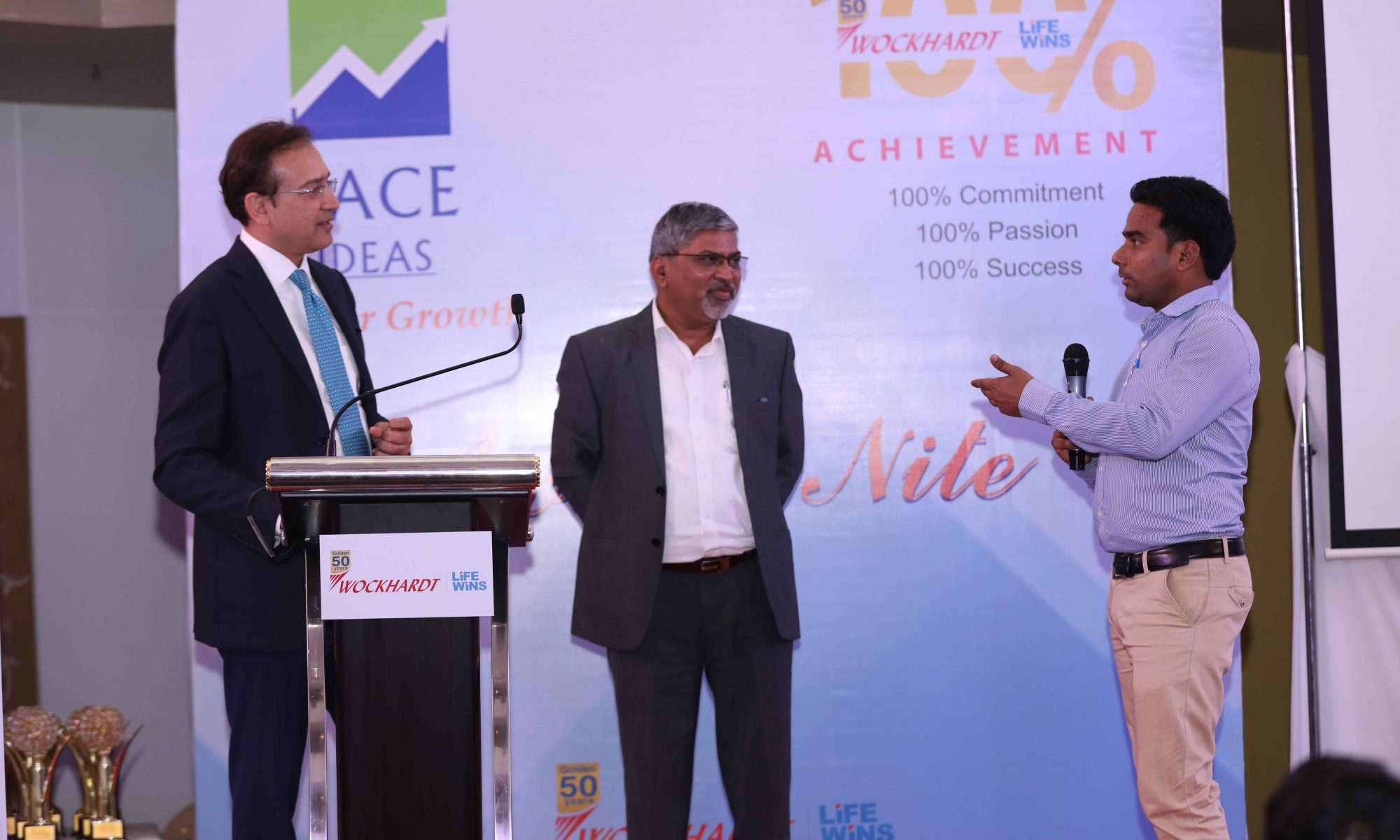 GOUTAM CHAKRABORTY
Vice President – Sales & Marketing Pharma Merind
My incredible 30-year journey with Wockhardt has been nothing short of phenomenal. Over the years, I have progressed from a Territory Manager to a Vice President, paralleling the organization's own growth and success. Throughout my tenure, I have had the opportunity to work in various therapies and divisions, adapting to the ever-changing needs of the business. During this time, I've encountered both triumphs and challenges, but my experiences have shaped a valuable learning curve.
Wockhardt has always provided unwavering support, offering me numerous training and development programs that have helped me thrive even in the face of adversity. Being a part of the Wockhardt family has imbued my life with a higher purpose, where our collective efforts contribute to the triumph of life itself. I am proud to work for an organization that embodies the essence of "Life Wins" in all that we do.
VIJAY MHATRE
Manager – Finance
At Wockhardt, I've found not only a fulfilling career but also a second family. The supportive and nurturing atmosphere cultivated by our Chairman has truly inspired me and my colleagues. Since joining in 1988 as an assistant after completing my graduation, I have grown tremendously within the company, eventually becoming a manager. This growth can be attributed to the unwavering motivation and encouragement I've received from my bosses and peers, as well as the numerous awards and recognitions I've been honored with over the years. In my role within the Secretarial Section, I focus on addressing investor and shareholder queries, maintaining strong investor relations, and promoting a positive image of the company among its stakeholders. This work not only allows me to connect with others but also contributes to the company's success.
I feel immense pride and satisfaction in being part of a leading pharmaceutical company that is committed to our nation's R&D efforts in innovative medicine. The lives we save and improve through our work provide me with an unparalleled sense of motivation. Wockhardt's slogan, "LIFE WINS," truly encapsulates the essence of our mission and serves as a daily reminder of the impact we have on the world.
JAGMOHAN SINGH RISHI
Head – Training, SFE & Digital Marketing, Sales Training

Working at Wockhardt for over a decade, I've had a fulfilling experience, with diverse roles and projects that contributed to personal and professional growth. In my various roles, I have been involved in projects such as Learning & Development, Sales Force Effectiveness, Digital Marketing, the Wockhardt Leadership Summit, Star Awards, and many more. My primary responsibility has been to enhance, nurture, and develop talent within the department and across the organization. Throughout my tenure as a trainer, I have had the privilege of working with employees at all levels of the company. My involvement in diverse projects has been both enjoyable and challenging, offering me invaluable experiences.
Wockhardt's dedication to nurturing its talent and providing opportunities for growth is truly commendable. The numerous prestigious awards the company has received over the years serve as a testament to its unwavering commitment to excellence. These experiences have allowed me to broaden my expertise and even contributed to winning the Golden Peacock Award for training and the People Matters Award for our induction program called "WOW."
I take immense pride in having helped many employees achieve their goals and realize their potential. The most rewarding aspect of my job has been witnessing the growth and development of these individuals. Over the years, I have observed the significant impact that proper training can have on a person's career trajectory, and I am deeply passionate about empowering others to reach their full potential. Working for Wockhardt has been an incredibly positive and fulfilling experience. I wholeheartedly recommend the company to anyone seeking a challenging and rewarding career that offers ample growth opportunities.
ZOHER SIHORWALA
Senior Vice President and Head – Drug Regulatory Affairs
As the leader of the Drug Regulatory Affairs function for the Pharmaceuticals Business at our company, my primary responsibility is to guide the organization through the regulatory process to ensure successful translation of drug research and development into medicines for patients. I achieve this by understanding regulatory science and adhering to compliance measures that protect and promote public health.
What I find most appealing about my job is the meaningful impact it has on our business success, specifically through the registration and approval of new medicines that become readily available to patients. Additionally, the constant surveillance and adaptation to changing regulatory scenarios and policies keep my mind active and engaged, ensuring a healthy and fertile mental state.
Wockhardt is an organization that encourages hard work and dedication, aligning with its purpose – Life Wins. The company fosters an environment where employees can make a difference in patients' lives through their work, creating a sense of excitement and purpose.
Working at Wockhardt offers both adventure and satisfaction, making it an ideal environment for those seeking to challenge themselves and find fulfillment in their careers. A typical day as the head of Regulatory Affairs is anything but typical, as I am constantly on guard to protect the organization's interests. I must be prepared to respond promptly to regulatory agency communications, collaborate with my team, and address various inquiries that arise throughout the day. This role involves a great deal of brainstorming, listening, and collaboration.
Over my 30-year career, Wockhardt has been my longest tenure (and ongoing) at approximately 10 years. Both professionally and personally, I have experienced significant growth within the organization. Professionally, working with our Chairman, Dr. Murtaza Khorakiwala, and Ms. Zahabiya Khorakiwala on matters of Regulatory Affairs has been both adventurous and satisfying. The wisdom and guidance they have imparted have been invaluable, helping me become a pragmatic, rather than a checklist-driven, regulatory professional.
On a personal level, though my time away from family has been challenging, these years at Wockhardt have taught me the importance of maintaining good health, eating right, and engaging in meaningful hobbies such as reading and watching thought-provoking shows. As I age, I remain healthy and productive, looking forward to spending quality time with my grown children in the future.
My time at Wockhardt has been filled with no regrets, as I firmly believe that everything that has transpired has happened for a reason and ultimately for the greater good. May God bless me, all my colleagues, and Wockhardt as we continue on this fulfilling journey.
MONISHA BRAHMA
Associate Vice President – Administration
My journey with this wonderful organization began on the 25th of October, 2000. As a Manager of Marketing at The Benchmark, I had the privilege of meeting numerous prominent industrialists in Aurangabad through our exclusive membership invitations. Organizing various events for members was always a pleasure, from weekend Housie and children's treasure hunts to monthly food festivals. The festive seasons of Diwali and Christmas were particularly memorable as we celebrated with our club members. Additionally, we hosted numerous sports competitions that saw enthusiastic participation from our members.
After a decade with Benchmark, I was entrusted with the additional responsibility of serving as the Admin Head for our R&D center, eventually expanding my role to oversee administration for our manufacturing plants in Baddi, Ankleshwar, Daman, and Aurangabad. This organization has provided me with countless opportunities for learning and growth. One of the most rewarding aspects of my job is the ability to travel to various locations and be involved in important events at Benchmark, our plants, and R&D centers. My dedicated and efficient team has always been instrumental in ensuring the success of these events.
My 22-year journey with Wockhardt has been incredibly fulfilling, thanks to its outstanding work culture. I feel truly privileged to be a part of such a remarkable organization. Today, I hold the position of Associate Vice President – Admin for our plants in Ankleshwar, Kadaiya, Bhimpore, B-15, Biotech Park Waluj, Shendra, and the Wockhardt Research Center.
KAVITA TUPLONDE
Executive Assistant to President – India Branded Business, Quality Generics, CMS & Global API
I have been associated with Wockhardt since 2014. I have seen Wockhardt growing wonderfully to an amazing workplace. The experiences that I have gained along the way are irreplaceable and invaluable. Wockhardt always provides relevant platforms to learn and explore new skills. I find the culture open and transparent enough to encourage thinking out loud. Working around like-minded people helps me get outside my comfort zone, enhance my knowledge and capabilities. Wockhardt gives me a chance to contribute towards development with a cause, to make other's life easier.
PRAVIN SAMBREY
Country Manager, International Marketing ROW
My ten-year tenure with Wockhardt, a global pioneer in pharmaceuticals and biotechnology, has been a remarkable journey of growth and learning. As the Business Head for Russia & CIS and emerging markets like China and Australia, I've had the chance to navigate challenges, launch new products, and expand our footprint, all while enhancing my professional credentials. Wockhardt's transparent approach provides immense exposure, fostering a deep understanding of our industry, products, and responsibilities. This has personally led to significant professional development. I am grateful for the faith placed in me and look forward to driving Wockhardt's success further leveraging the wealth of experience I've gained. This journey with Wockhardt has truly been a rewarding symbiosis of individual and organizational growth.