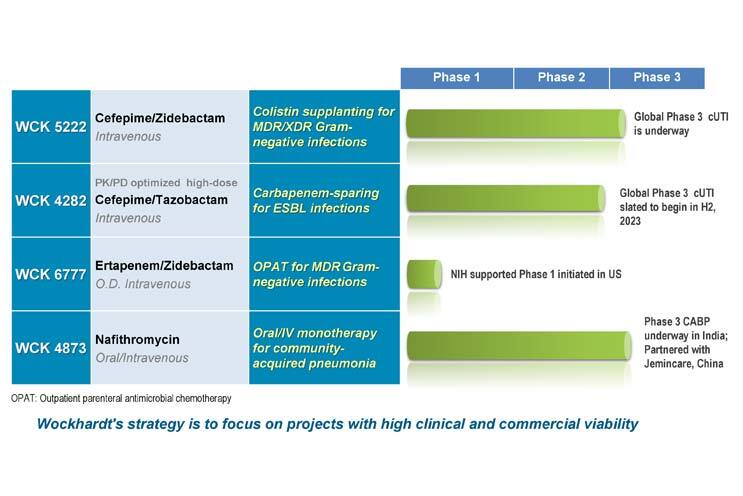 Discovery Projects
Owing to the sustained and focused efforts, our antibiotic discovery team has been able to evolve a rich pipeline of candidate drugs which are either approved or at various stages of clinical development. All our novel antibiotics (WCK 771, WCK 2349, WCK 4873, WCK 4282, WCK 5222 and WCK 6777) are designed to address current and future unmet needs in the management of community-acquired and/or hospital-acquired infections caused by resistant bacterial pathogens. Since these drugs target several CDC/WHO/FDA listed priority pathogens, all of them have earned qualified infectious disease product designation (QIDP) by US FDA.
Of these novel antibiotics, WCK 771 (levonadifloxacin, IV) and WCK 2349 (alalevonadifloxacin, Oral) have been approved in India for the treatment of acute bacterial skin and skin structure infections (ABSSSI), including diabetic foot infections (DFI) and concurrent bacteremia. WCK 771 is an arginine salt of levonadifloxacin, a broad-spectrum benzoquinolizine sub-class of fluoroquinolone with a potent activity against Staphylococcus aureus including MRSA, quinolone-resistant S. aureus and vancomycin-non-susceptible strains (VISA and VRSA). In India, the intravenous formulation of WCK 771 has received marketing approval under the brand name of EMROK. WCK 2349 is mesylate salt of alanine ester prodrug of WCK 771 with > 90% oral bioavailability compared to intravenous WCK 771. The prodrug has been designed to enable a seamless oral switch therapy facilitating early discharge of patients from hospitals as well as for the management of infections caused by community MRSA. In India, the oral formulation of WCK 2349 is marketed under the brand name EMROK O.
Among phase 3 stage pipeline drugs, WCK 4873 (Nafithromycin), a next-generation lactone-ketolide, is currently undergoing phase 3 study for the treatment of community-acquired bacterial pneumonia (CABP). It is comprehensively active against macrolide or penicillin or quinolone-resistant Streptococcus pneumoniae as well as entire range of pathogens involved in community respiratory tract infections. Helped by the best-in-class lung uptake of Nafithromycin, a short 3-day, once-daily regimen of nafithromycin has been found to be safe and efficacious in a global Phase 2 CABP clinical trial.
WCK 4282 is a combination of high-dose cefepime/tazobactam active against resistant Gram negatives including ESBL-expressing Enterobacterales which are non-susceptible to piperacillin/tazobactam or cefoperazone/sulbactam or ceftolozane/tazobactam. It is a potential carbapenem sparing, 1st-line, empirical workhorse antibiotic for suspected or confirmed ESBL Gram-negative infections in hospitals. A global Phase 3 study has been planned based on US FDA approved protocol.
WCK 5222 (cefepime/zidebactam) is a novel β-lactam enhancer mechanism-of-action driven antibiotic designed to address the myriad of β-lactamases that keep evolving and rendering even newer β-lactam based antibiotics ineffective. Zidebactam is a first-in-class β-lactam enhancer with a potent inhibition of penicillin binding protein (PBP) 2 of all the clinically relevant Gram-negative organisms including Pseudomonas aeruginosa, Acinetobacter baumannii and Enterobacterales. It is also a potent inhibitor of Ambler class A and C β-lactamases including Klebsiella pneumoniae carbapenemases. By virtue of its universal stability to serine or metallo β-lactamases, zidebactam synergizes with PBP 3-binding cefepime and overcomes nearly all the known enzymatic and non-enzymatic resistance mechanisms in Gram-negative pathogens. The potential clinical coverage of WCK 5222 includes metallo- β-lactamase-expressing Enterobacterales & P. aeruginosa and carbapenem-resistant A. baumannii. This QIDP-designated antibiotic is now undergoing global Phase 3 clinical study in the indication of complicated urinary tract infections and an all-ventilated pneumonia patient study would follow.
WCK 6777 is being developed as once-daily therapy for infections caused by carbapenem-resistant Gram-negative pathogens. Currently, no other once-a-day antibiotic has progressed to clinical phase. Upon successful development, WCK 6777 is expected to offer a convenient outpatient therapeutic option for the management of range of serious Gram negative infections, thus obviating the need of hospitalizations. Presently WCK 6777 is in Phase 1 multiple ascending dose study, which is being sponsored by National Institute of Health.